veröffentlicht am 7. Dezember 2011
English version below the photos
Ein neuer Bewohner hat in der Nacht zum 1.12. den langen, beschwerlichen Weg zum RaumZeitLabor über den großen Teich hinter sich gebracht.
Es handelt sich um eine sehr spezielle Lampenform mit 40 Watt Leistung. Dessen Licht ist so konzentriert und fokussiert, dass es Material wie Holz, Acryl, Karton, Papier, etc. zerschneiden kann.
Kurz gesagt: Wir haben jetzt einen 40Watt CO2 Lasercutter im RaumZeitLabor! o/
Die Geschichte, wie dieses kleine Gerät zu uns kam, wird gerade zu einem internationalen Bestseller verarbeitet unter dem Titel "The long journey of Nick Farr".
Die nächsten Tage und Wochen werden wir das Gerät jetzt kalibrieren, justieren und testen bis der (Augen-)Arzt kommt. Danach wird der Laser für alle RaumZeitLaboranten zur Verfügung stehen. Eine detaillierte Wikiseite mit Erklärungen, Tipps und Tricks wird folgen.
Stay tuned and FIRE THE FaZzZ0r!!1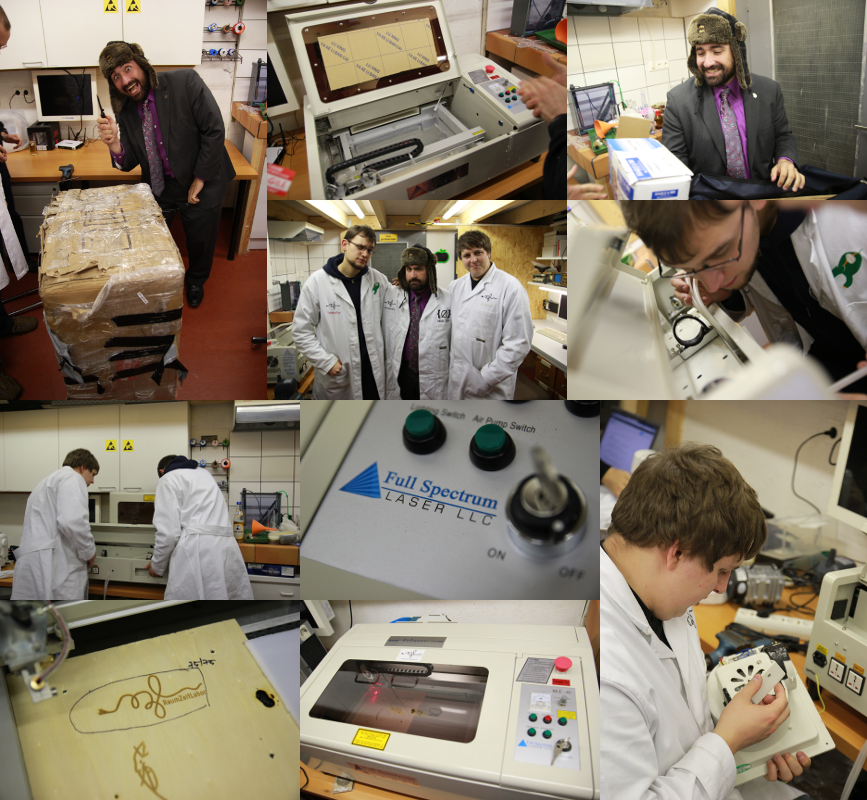 On Dec 1st, a new inhabitant of the RaumZeitLabor has travelled all the long way from across the ocean and arrived safely in Mannheim.
It is a very special kind of lamp with 40Watts of power and it's light is so concentrated and focussed that it can cut stuff like wood, acrylic, cardboard or paper.
Long story short: We now have a 40Watts CO2 laser cutter at RaumZeitLabor! o/
The whole story of how this nifty device has made it's way to us is currently turned into a global best selling book titled "The long journey of Nick Farr" (movie rights have been sold).
The coming days and weeks, we are going to calibrate and adjust the device until it either perfoms like a bau5 or our eyes need serious surgery. After that, the laser will be available to all RaumZeitLaborians. A detailled wiki page with howtos, tipps and tricks will follow.
Stay tuned and FIRE THE FaZzZ0r!!1